25 tips to get kids outside
Sometimes, you want your children to go walking in the woods, but most children are not happy. Because what's more fun than TV or computer? Well, how about making happy mud pies, camping in your own backyard or learning to whistle on a blade of grass? And you want to make it really tough? Teach the children to work with a pocket knife or build together once campfire. With these 25 tips success is guaranteed!
1. Make a mud pie
Mess with mud, which child feels that now is not that fantastic? The recipe is simple. You take some earth and water and play! With some iron cake and turban form, the play is even more fun. Flowers, berries, twigs and feathers from the garden can be used as decoration on the cake.
2. Dancing in the rain
Children like crazy and doing things that are forbidden. So leave the raincoats and umbrellas behind and go out when it rains. Success guaranteed! Summer treats in a downpour? In swimsuit or trunks through the rain dance is even more fun. The harder it is raining, the better. Nice stomping in the puddles and jumping in the rain.
3. Bird watching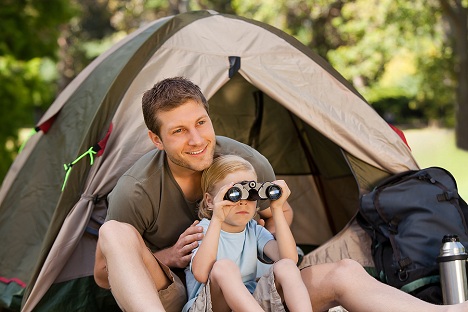 The fun at beautiful bird watching is that it can be anywhere. Even in the backyard or in the park, is the most wonderful birds against, but if you look and listen carefully. Take binoculars, bird guide and notepad with it, because that makes it a lot easier.
4. Dig a tunnel!
Spoon it on to the woods and dig only. Kids always find it exciting to see how far they can get. Digging is even better if they keep an eye on what they encounter.
5. Make a game
Who will be the biggest chestnut leaf? Who the weirdest bug? And who has the most stones? Make it out of a game and the grandchildren are busy for hours.
6. Build a campfire
Dig a hole in the ground and put in flammable material, such as pine twigs, hay and wood chips. Put over some light branches down. Lucifer there, maybe some firelighters and the campfire is complete. What remains are exciting stories, singing songs and roasting marshmallows.
7. Organize a picnic
A sunny day, a rug to sit on and a basket full of tasty snacks and drinks. These are the ingredients for a successful picnic. Make advance of ready snacks, such as small sandwiches or a fruit salad before tucking around in the grass.
8. Camping in the backyard
Tent, mattress, sleeping bag and flashlight. And of course, a dark night. Children love camping but something exciting, even if it's in the backyard. With some extra pillows for a real pillow fight is the firm less scary. You just need to take a look and find one of cheap tents for sale for a warm night with your children.
9. Build a hut
Build huts that children find it very exciting. Especially if the cabin is in the woods or park, then it can serve as a secret meeting place. In the forest they can with large branches and shrubs build a wonderful cabin. But in the back is also possible. Use here boxes, shelves, paintings and pallets.
10. Make your own nature video
Grandchildren can not get enough of the latest gadgets, video games and devices? Let them even work with a video camera! There are enough buttons and the film finally on YouTube, it's still awfully tough too. Choose an animal, such as a butterfly, and set it on film. Red deer or wild boar in the Veluwe is also possible, but then you'd better bring a hut and prepares them for hours staring. But it's worth it!
11. Looking for fruit and nuts
Blackberries, rosehips, beechnuts, hazelnuts and chestnuts. There's plenty to be found outside in nature, especially in the fall. Chestnuts can be roasted (delicious!) And blackberry you can jam together afterwards. Or eat it on the spot, tasty too!
12. Go fly a kite
In a field or on the beach, there are many places where you can fly a kite. There is a nice breeze is needed to let the kite through the air slide and whiz. Use a two-line kite (new from about 20 euros), kids can get along from the feet.
13. Star-Hunting
Is that the North Star? And I see the Big Dipper? On a clear night there is a lot for children to discover. And do you also do not remember exactly? "Which star is that" is still in the stores.
14. A day helping at the petting zoo
Collecting eggs, feeding rabbits, goat milking and mucking out pens. There is plenty to do every day on the farm. There are regular activities and special days, when all the extra help is welcome. So keep your grandchildren animals? Just call the local zoo and they are welcome.
15. Vegetables grow
Self-planting, seeding and harvesting is great fun! Give the grandchildren a small corner in the garden where zucchini, pumpkin and potato can grow. Once the vegetables are ripe, then followed by a delicious meal of homegrown vegetables. And the grandchildren will determine proud!
16. Flutes on grass
It's a few times trying, but the grandchildren know how. Take a blade of grass, preferably one that is slightly longer and wider. Place your hands flat against each other, as in prayer. Place the blade of grass between your thumbs and then, blow it!