What is the most suitable pillow?
Pillows are in all sizes, shapes and made of all kinds of materials. Which one is the best fit depends on many factors. It is important that the pillow bring you the comfort.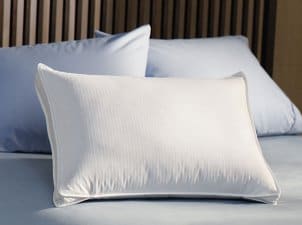 Your current pillow
Everyone will recognize the discomfort when being awaken and trying to sleep again. The pillow is too soft, too thick, too big or just does not smell good. It may be a sign that your own pillow probably is not pleasant anymore. In order to achieve a good alternative choice for the next few years, you should know some facts about pillows.
It could also be that your pillow is always nice, but gradually it started to wear out. You can of course simply decide to buy a similar new pillow. But to advance some information, you can first consider between the most common models and types.
The types of pillow fillings
It is a very personal stuff that makes you feel most comfortable. There are several types on the market, each has its own specific characteristics. Those qualities are also important because there are certain cushions belong to a particular type of sleeper or the firmness of your mattress.
Types of fillings:
Down and feather
When a pillow is filled with down and feathers, it has the large deformability and it therefore can be folded well with the tuck. It is more difficult to put in with the right amount of springs to obtain your personal comfort. They usually also contain no zipper.
Washing the feathers by yourself is a bad idea. The pillow should be well shaken up every morning to give the springs a chance to be able to come back to its original form, so the pillow will remain the airy feel.
Synthetic
Many synthetic cushions are provided with a zipper so that the amount of synthetic material can be in the completed cushion, or may be reduced. The deformability is generally considered fairly good, unless the pillow is too full. The material itself is smoother in texture than the cushions with down and feathers.
Washing the filling does not cause problems, so you can simply do it at home.
Wool
A wool pillow consists of wool balls and can be refillable. You can be sure that the pad is free from harmful substances that pose a risk to health.
Washing is possible, but you should limit it anyway.
Kapok
The kapok (cotton) pillow is firm but well deformable pillow with an excellent moisture and heat regulation. Furthermore it is also anti-bacterial. It is usually equipped with a zipper, so it can be refillable and washable.
Visco-elastic foam
A pad of visco-elastic foam, which is also known as memory foam, has the advantage that the cushion slowly fits in your body form, depending on the pressure which is applied to. The pillow holds heat well, which is both an advantage and a disadvantage. This is very personal.
It is a disadvantage for people who sweat a lot. The heat and moisture development in this type of cushions is greater than in the traditional cushions. The pillow retains its original shape longer and changing sleep position is therefore more difficult.
Washing the pillow is not possible.
Testing of the pillow
In many of the good beds shops, it is possible to try out a pillow. Take this chance and just do it. A good pillow is not really cheap. Sometimes you can even try it at home.
Of course, you first should allow yourself to be well informed about the pros and cons of pillows.
A partner will be able to tell you, if you do not know yourself, whether you turn or change the position a lot in your sleep . Furthermore, whether you are perspiring a lot in your sleep could be a major role in the choice. The hardness of your mattress also affects the thickness of your cushion. A firm mattress has a higher pillow than a soft mattress.
You should also consider critically about the pad. The material must be comfortable to your skin. Do not buy the pillow with the cushion materials that do not smell good. You will need it later on throughout the night, so a pleasant smell is really important.